As of September 6th, the Centers for Disease Control & Prevention (CDC) is reporting over 450 possible cases of severe lung illness linked to the use of "e-cigarettes." Three types of pulmonary injury are being seen in these cases — lipoid pneumonia, alveolar hemorrhage, and cryptogenic organizing pneumonia.
There have been six deaths reported as of September 10, 2019.
Illinois (reported August 23rd) — no details available
Oregon (reported September 5th) — a middle-aged patient who had vaped THC oil

 

bought from a legal dispensary, but there are

 

no assurances

 

that he did not also vape illicit THC cartridges.
Indiana (reported September 6th) — no details available
Minnesota (reported September 6th) — a patient older than 65 who had vaped

 

illicit THC products.
Los Angeles, California (reported September 6th) — no details available, but according to the

 

Los Angeles Times, of the 12 people hospitalized in LA

 

County, "almost all … had vaped using THC."
Kansas (reported September 10th) — no details;

 

announcement.
Should Nicotine Vapers and Smokers Be Worried?
In short, no. The evidence continues to indicate that poorly manufactured street vapes containing THC or other substances are to blame for these illnesses.
No adult smoker should be scared off from using store-bought nicotine vaping products to quit or reduce smoking. Nor should any vaper be misled into believing that relapsing back to smoking is a better option than continuing to vape.
What Has Testing Found?
On September 5th, the New York State Department of Health reported that laboratory test results showed "very high levels of vitamin E acetate in nearly all cannabis-containing samples" they tested. For each patient who submitted a product, at least one of their cartridges contained vitamin E acetate, which is used as a thickening agent in illicit cartridges.
On September 6th, Mitch Zeller of the FDA Center for Tobacco Products stated at a CDC press conference, "The samples we're continuing to evaluate show a mix of results and no one substance or compound, including vitamin E acetate, has been identified in all of the samples tested." 
According to the Washington Post, the FDA informed state health officials on September 4th that its lab tests had found "nothing unusual" in the nicotine products the agency tested. The FDA has yet to disclose this publicly.
Does the FDA Believe Nicotine Vaping Products Are To Blame?
While the CDC has urged all Americans to consider not vaping and to not vape products purchased off the street, the agency has received criticism (including from us) for not being specific about the dangers of illicit THC products.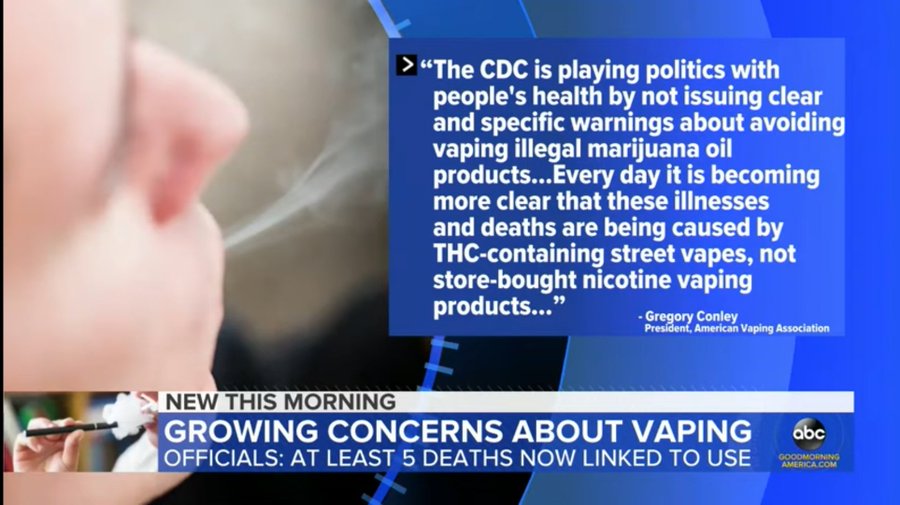 Hours after the CDC's press conference on September 6th, the FDA 'broke' with the CDC and issued an alert specifically warning about THC vaping products.
On Twitter, CNBC journalist Angelica LaVito noted the stark differences between the warnings being issued by CDC and FDA, which prompted a reply from former FDA Commissioner Scott Gottlieb.
Are Youth Misreporting Their THC Use?
In every state that has released detailed data, the vast majority of patients or all impacted patients reported vaping illicit THC products. Nonetheless, CDC officials and public health activists have continued to rely on a small number of patients who reported only vaping nicotine to justify issuing general warnings cautioning against vaping anything.
Dr. Melodi Pirzada, a pulmonologist at New York University Langone Hospital who treated two patients who had vaped THC, told journalist Foster Winans about a case involving an 18-year-old male. "We did a million-dollar workup and couldn't figure out what caused it. He denied vaping until the family found a cartridge in his bedroom. It had cannabis oil in it. We then learned that his symptoms began around the time he started using it."
Lena Sun of the Washington Post, who has spoken to many state health officials and doctors who have treated patients, similarly reported, "Doctors have said patients, especially teens, are often reluctant to say whether they have used marijuana products."
"Not everyone reported using THC oil," said Ngozi Ezike, MD, director of the Illinois Department of Public Health. "We can't say if that was because they were scared to acknowledge it or because they never used it."
Marijuana remains illegal at the federal level and in most states. With patients tending to be young (patients in Illinois and Wisconsin were 19 on average), it makes sense a fear of parental or police involvement could have caused some or all of the patients to not disclose the full extent of their vaping activity.
What Are State & Local Health Departments Saying?
New York: As of September 6, 2019, the NY State Department of Health claims it has received 38 reports from New York State physicians of severe pulmonary illness among patients ranging from 15 to 46 years of age who were using at least one cannabis-containing vape product before they became ill. The Department is specifically warning about "pulmonary illness associated with black market vaping products."
Wisconsin: At the end of August, Wisconsin reported that 89% (24 of 27) of their cases involved patients who admitted to vaping THC. As of September 5th, Wisconsin was reporting 34 cases and had issued a specific warning: "We urge the public to avoid vaping any THC products."
Los Angeles County, California: While the Los Angeles Times reported on September 6th that "almost all" of LA County's 12 reported cases involved THC vaping, the LA County Health Department issued a general warning about vaping any substance.
Kings County, California: In August, the Kings Count Health Department issued a warning against vaping THC or CBD oils after seven local cases of acute respiratory distress syndrome. As of September 5th, the number had risen to nine people.
New Mexico: On August 29th, the New Mexico Department of Health reported eight male patients in the state, all of whom reported vaping THC cartridges. The Department of Health issued a specific warning about vaping THC as a result.